Summer began on Friday night. At least that's when the people from the areas around small town Grayson, Kentucky observed its start. Typically, Memorial Day weekend is a special event for the residents of this community, as they line the streets with games, vendors, food dealers, live music performers, and other standard festival features, but this year, this small town went big! For their Memory Days event, a local business sponsored a free live concert from the rising country music group Old Dominion. News of this special event spread from traditional news outlets and over social media, and soon, thousands of music lovers had "Old Dominion Block Party" written on their calendars and typed into their phones' reminders.
We had heard that city officials expected nearly 8,000 people for the block party, so I knew to get into my Relatively Random t-shirt and grab our red collapsible lawn chairs and hit the highway for Grayson early to be there in time for the gates opening at 6:00. We arrived in plenty of time, encountered very little traffic, and found a terrific free parking spot close to the parking lot where the event was to be held. We had the place nearly to ourselves and sat up our chairs behind where the small crowd was forming. (Luckily, the other patrons left ample room between themselves and us, as we would soon need the space as a dance floor.)
As the first blistering hot sun of the summer moved across the sky and dropped behind the local church steeple, shade fell upon the large parking lot, setting the mood for Friday night fun. Two different local acts performed songs they had written and covers of popular hits, priming the growing crowd for the main event.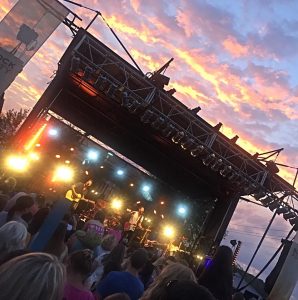 At about 8:30, Old Dominion took the stage, opening with their current chart-topper "Snapback." Over the nearly two hours that they performed, fans enjoyed all of the tracks from the band's current album MEAT AND CANDY, along with some other well-known compositions the band members had written for other popular country music artists. Now, this is where we became seriously impressed. We love Old Dominion. We own their CDs and we know every word to every song, but like the title of the album suggests, most of the songs are "candy" – feel good, bubblegum tracks. Only a couple of songs give us any "meat" to provide substance, so we worried the concert might leave us a little empty, but when they shared some of the pieces they'd published previous to their pop-country success, they gained a new level of our respect.
Of these compositions are the heartbreaking "Wake Up Lovin' You" (released by Craig Morgan 2013), Tyler Farr's popular "A Guy Walks Into a Bar" (2014), and much to our surprise, a favorite at our house, Blake Shelton's "Sangria" (2015). Learning that the Old Dominion guys penned these tunes impressed us tremendously, and scored them some additional street cred in our book.
Overall, we were very pleased with the event. We danced all night and laughed along with the band as they conversed with the crowd from their platform. Old Dominion gave a top-notch, feel-good, party-in-the-parking lot performance, leaving it all on stage, just as they would have for a larger venue. Indeed, they turned this little one-horse into Vegas.
We recommend that you catch them on their summer tour. You can see them at their upcoming stops to upstate New York (Canandaigua and Hunter), in good ole Nashville, way up in Wisconsin, or out on the beach in Virginia (the state from which most of the band hails). For a complete list of concert dates, visit their website.