I took a ride on my Fat Bike this past weekend.   If you're not familiar with this wonderful big tired bicycle…read this.   It was a perfect fall day… the sun was shining, the air was crisp, the fall colors were fighting their way through the lingering greens of summer.  My ride consisted of rolling double track under the canopy of the hardwood forest, paths through a vast meadow filled with all sorts of wildlife, and trails along the water's edge.   The smell of autumn was in the air as I pedaled along in near silence over the western NY terrain.  Along the way I met some walkers, and took the opportunity to have a quick chat with them before continuing my ride.  Hill after hill, corner after corner, and even puddle after puddle, this had turned out to be a great morning ride.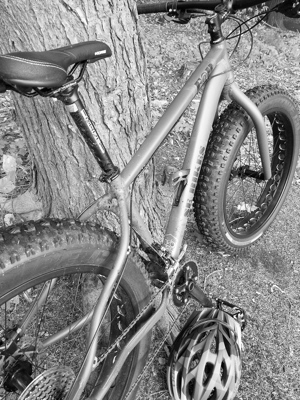 As I made the final descent on the paved road back to my cottage, I saw a neighbor out doing work around the yard.   He looked at me, kind of shaking his head, as he said "I thought you were some kid riding his bike".  "That pretty much sums it up", I replied…with a grin.  We made some idle chit chat about the weather, remodeling projects, and life in general.   As I got ready to hop on my bike and continue on my way, he said to me "Don't forget your age."   What?   That's the whole point of my fat bike and most hobbies I get involved in.  The whole purpose is to take a step away from reality, and completely forget about my age.
Life is hard.  There's no denying it.   Almost everything we are faced with continually reminds us of our age.   Even as I was riding this morning, I stopped and talked to a woman whose husband passed away far too early.   I spoke to a man recovering from a serious fall this summer.  The reality of our age is everywhere.   As I got back home, my wife was watching the last moments of a tribute to Tom Petty on TV, followed by more talk of the recent shooting tragedy in Las Vegas.   All things that remind us of our mortality, of our place in this journey called life, and the unsettling fact that we don't know how many tomorrows will become todays.
I'm not much of one to give advice to others.   I've survived lots of life's ups and downs, but I would not say that the path I've followed is the path for everyone.   But I will share this one bit of advice.  If someone ever tells you "Don't forget your age", I'd suggest doing no such thing.   I'd suggest finding that thing or things that take you back to that point in your life where having fun was your only goal and success was measured in grass stain, tears from laughter, sore muscles, skinned knees, and memories that never fade.  Whatever that thing may be, do that and definitely, forget your age!