To say this winter has been a rough one would be an understatement.  With over eight feet of snow so far this season in Western New York and the coldest February on record, it has been downright brutal.   But for those of us that like to get out and play in the white stuff, this winter has been close to perfect.  The biggest challenge has been choosing my winter toy of choice… skis, snowshoes, or bicycle.   Yes…I said bicycle.
Over the past couple years, a new trend has been emerging in the world of mountain bikes.  That trend is Fat Bikes.   These predominantly steel framed, rigid, big tired pedal machines have been taking the industry by storm.   Originally targeted for riders wanting to play in the sand or snow, the fat bike is even finding itself at home on fire roads and technical single track.   And the reason for that…they are just too much fun.   These are the monster trucks of bicycles, just looking for obstacles to crush in their path.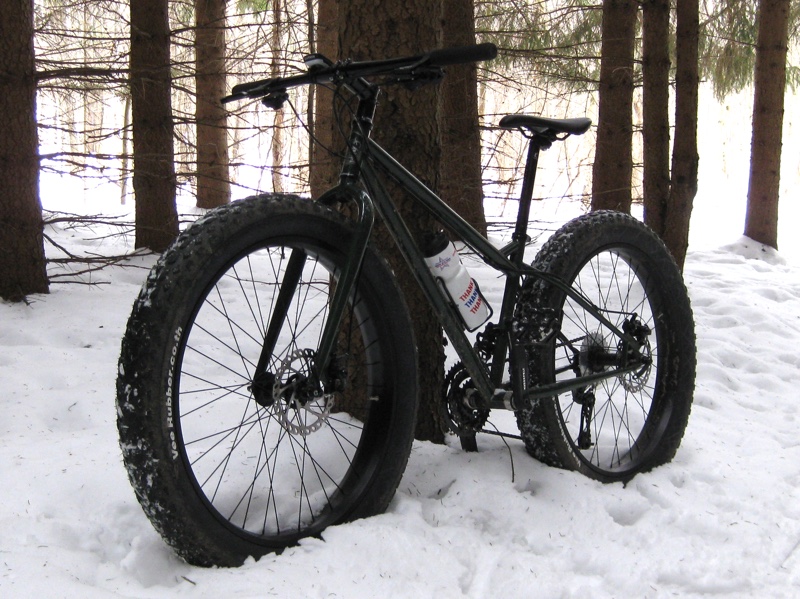 This past spring, the temptation to own one of these bikes was more than I could handle.   With manufacturers from high end to entry level getting into the Fat Bike market, choices were abundant.  After a lot of research I ended up with the Nashbar Big Ol' Fat Bike.  With a chromoly frame and fork, a SRAM X5/X7 3×9 drivetrain, Hayes MX5 mechanical disc brakes, and a price just under a grand, this Big Ol' Bike came with all the goods to deliver Big Ol' Grins.   Fat Bikes tend to be everything that the mountain bike industry has been trying to get away from for years… low tech, no suspension, and heavy.   Maybe that's what makes them just so appealing.
I spent most of the summer riding my new balloon tired toy for all my off road riding.  Despite the lack of shocks, this bike was just too much of a hoot to leave hanging in the garage.  With tire pressure below 10 PSI, this thing is a traction beast.   It rolls through rock gardens with ease, climbs like a champ, delivering on the fun every single ride.
As the leaves began to change color, and the weather turned colder, I was excited to try this bike where it was designed to be used…on the snow.
It was a nice March day that I finally got out on the bike.   Fortunately I live close to a trail system that gets a lot of traffic from cross country skiers, snow shoe'ers, and hikers, making it the perfect place to try the Big Ol' Fatbike in its element.   However, just getting to the trails proved to be quite a feat.  With over two feet of unpacked snow on the ground, pedaling was not really an option.   After a short, and tiring push to the trail, it was time to do some riding.   The day I rode was in the thirties, so the packed trails were starting to get a little soft, but the big wide tires floated nicely.  I found that keeping momentum was key to not letting the front end dig in.  I also learned that this snow riding thing is quite the workout.   Coasting is not an option…it's a 'pedal all the time' experience.  The gearing on the bike proved to be perfect with plenty of low end for the slow snowy uphills.
It did not take me long to get a good cadence going as I enjoyed the opportunity to bike in a setting that I usually don't get to see in the winter months.   In fact, the only thing that slowed me down was stopping to answer questions as I met skiers and hikers on the trail.   All of them were curious as they tried to figure out what this crazy looking bike was all about.
After a four mile loop through the woods, I was tired and grinning from ear to ear.  Like an overgrown kid running through mud puddles…I almost felt like I was getting away with something.
For bikers in the North Country that can't get enough seat time, a Fat Bike is a great way to have a year round biking season.   These bikes handle the snow with ease.   They're also a whole lot more fun than riding your bike on a trainer in the basement and gets you outdoors in the winter months.  I'm not saying everyone should buy one…but everyone should try one…and the buying will surely follow.
To take a cue from Queen's song book…. Fat Tired Bikes, you make the biking world go round.