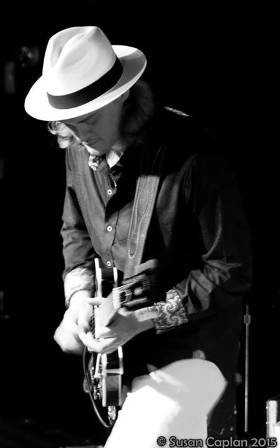 Here are Relatively Random, we love creativity, and look for opportunities to promote those willing to take the leap of faith required to chase their creative dreams. With that in mind, I'd like to introduce you to an artist dropping his latest EP today, On Down The Road.
JL Fulks is a musical throwback, a tribute to American Blues. He and his bandmates, Ken Burgner and Ian Jones, made it to the semi-finals of this year's International Blues Challenge. His scorching licks and mournful lyrics leave you aching in your own memories of hope and loss.
You can't help but get lost in I Believe In Love as he croons, "I believe in love, Love is gonna set me free." His playful teasing in Honey, Ain't That Love will have many a husband nodding along in commiseration.
It's clear JL has a knack for turning everyday life into the art that is The Blues. Maybe an even greater talent is his ability to make six strings tell their own story as clearly as any lyrics. Phrygian Dance is a modal epic you won't want to miss. There is no doubt JL's study with Berklee School of Music has certainly paid off for his listeners.
If you are lucky enough to be in the Lake Park, Fl area you won't want to miss JL's CD Release Party tonight at The Kelsey Theater. If you can't make it out to hear him live you can catch a live stream of the concert on www.worldstreamlive.com. No matter what, you definitely want to pick up the EP, On Down The Road from your favorite music service. It's available today on iTunes, Amazon, and Spotify.
To learn more about this up and coming blues artist, visit his web page at www.jlfulks.com, or subscribe to his YouTube Channel. We here at Relatively Random wish JL the best of luck with his new EP and congratulate him on staying true his passion and following his dreams!