This past month I had the outstanding, unbelievable, unforgettable, and once in a lifetime opportunity to see Jeff Lynne's ELO "Alone In The Universe" Tour at Radio City Music Hall in New York City.  In the days that have passed since that memorable night, I've been staring at a blank page trying to put into words one of the greatest musical experiences of my adult life.   …and just to set expectations, nothing I say will capture the magic of the moment.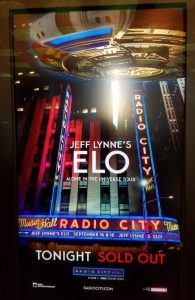 I've been an Electric Light Orchestra fan since my days in Junior High.   It was probably the spaceship album artwork that first grabbed my attention, and it was songs like "Mr. Blue Sky", "Telephone Line", and "Strange Magic" that had me hooked.   By the time that I had enough freedom, enough money, and enough means of transportation to actually go to an ELO concert, ELO was no longer touring.   …and until last year, there was nothing but rumors about a possible ELO tour.  This past winter, once again, there was talk of an ELO tour that would be coming to the US, with one of the stops being Radio City Music Hall in NYC.  Before long, talk became reality, and I found myself agreeing to pay more than I spent on my 1978 VW Scirocco for two seats only fourteen rows away from the stage.
After months of anticipation, and hearing nothing but rave reviews from their shows in the UK, it was finally concert night.   Not only did my ticket price get me great stage proximity, but it also was part of a VIP package that included early entrance to Radio City Music Hall, and a cool swag bag of stuff.   As we waited for the show to start, the auditorium was filled with nothing but songs that Jeff Lynne had helped to produce, including hits from the Wilburys, Roy Orbison, George Harrison, and Tom Petty.   Given the level of fandom represented that night, I'm sure that I was not the only one to notice the song choices.   Speaking of fandom, since there were only two locations on the US tour, the hall was filled with people from all over the country.   ELO fans were not going to miss this event….and many had travelled thousands of miles to be there.
After an opening act of an excellent string quartet, the band took the stage.   Jeff Lynne and Richard Tandy, the only original members of the band, were accompanied by a full stage of world class musicians.   The show kicked off with "Tightrope"…and kept building from there.   The night was everything one would have expected from an ELO concert.   Lots of lights, lasers, strings, synthesizers, and rock and roll.  Lynne's vocals were impeccable, the band was tight, the energy was crazy, and the fans..the adoring fans…were in musical heaven.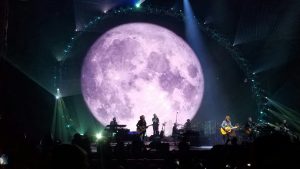 There were not many words spoken between songs, just repeated thumbs up from Lynne, who seemed to be almost in disbelief from the crowd's reaction.   Song after song, hit after hit, Lynne reminded us what had made ELO such a great band.   Hits like "Evil Woman", "Livin' Thing", and "Shine A Little Love", just to name a few.   The crowd was captivated as he played one of his latest songs, "When I Was A Boy".   The show ended with "Telephone Line", "Turn to Stone", "Sweet Talkin Woman", "Don't Bring Me Down", and "Mr. Blue Sky".  All perfect…  
As Lynne and the band left the stage, the audience made it clear that they loved what they heard and wanted to hear more.   The band returned to the stage and finished out the night with an outstanding rendition of "Roll Over Beethoven" for their encore.
It was an emotional night…a bit surreal.  A concert I had been hoping to see for decades had just turned to reality.   I was thrilled to have just witnessed musical history, and at the same time, sad at the realization that this was likely the one and only time I would see this truly remarkable artist doing what he does best.
There are no words to truly capture the emotion, the energy, the perfection of this night.  And to quote Jeff Lynne himself, "I can't get it out of my head".