My friend Corey and I started riding motorcycles back in 1979.   In those days, my motorcycle of choice, where choice was defined by the $175 I had in my bank account, was a 1972 Honda SL70 with Corey riding a 1974 Suzuki TS75.   Two machines perfectly equipped to provide hours of adventure in old farm fields, on makeshift motocross tracks, and Catskill Mountain logging trails.
Fast forward nearly 30 years, and once again, you'd find Corey and I loading up our current motorcycles of choice with enough gear to get us through a weekend of riding adventure.  Whether the destination was the Adirondack Mountains, the Finger Lakes, New England, or the Atlantic Ocean, the fun factor was still as high as it was back in the 70's.   As the ride distance grew, and the days on the bikes increased, there was a continual search for the perfect motorcycle (or the perfect seat).  One that would provide multi-day riding comfort, capacity for all our gear, and enough power and handling prowess to tackle all the climbs and the twisties that would be thrown at it.
After several bike purchases in search of the best do-it-all motorcycle….we both ended up landing on BMW's.   Corey riding a current era F800GT and me on a decade and a half old R1100S.   Both being completely able handle the task of tight twisties, high speed sweepers, placing 'slower traffic' clearly in the rear view mirrors, all while providing a level of comfort that enables a 350 mile riding day without the need for medical attention.
I've wanted to ride the Blue Ridge Parkway ever since I was first introduced to it a few years ago down in Meadows of Dan, VA.   The twists and turns and the outstanding views seemed like a perfect motorcycle road.   Being located in upstate NY, the 'getting there' seemed like an ominous undertaking on the bikes I've owned in the past.   With my 'new to me' Beemer, things did not seem so scary.   A quick email to Corey confirmed that he was game too…   The planning had begun.
We had four days of riding to make this thing happen.  Given a desire to make it about 120 miles down the Blue Ridge, we had a total of 1100 or so miles to cover in those 4 days.  Other than that, the only planning stipulations were no four lane highways, lots of curves, and lodging close to sources of good food at the end of each day.   Corey started out a day ahead of time to get from his home in the Catskills to my home near Rochester.   The next morning, with the bikes washed and prepped, the saddle bags loaded, and the GPS programmed, we were ready.
Day one took us from Rochester, NY to Berkeley Springs, WV, covering some great roads in New York and Pennsylvania.   As we entered into Pennsylvania, a nice grandmotherly lady at a convenient mart warned us of recent Moose sightings.   Knowing the size of a Moose and the size of my motorcycle, hitting a Moose seemed like a bad option…so I proceeded with caution and with every intention to try to duck under any Moose I encountered along the way.   PA Routes 49, 872, and 53 offered up some outstanding, and moose free, riding and were the definite highlight of the day's 300 miles.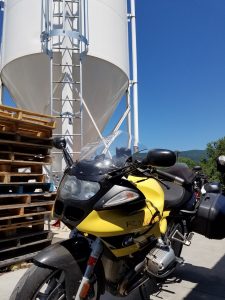 Day two was the whole reason for the trip.   This was the day we were going to finally get some seat time on the Blue Ridge.  The first order of business was to cover the 150 miles to Afton, VA for a quick stop at the Blue Mountain Brewery to meet my Aunt for lunch.   With bellies full of food, it was time to get started on the Blue Ridge Parkway.   Right from the very first mile, the Blue Ridge offered up some of the best motorcycling roads I'd ever experienced.   The 45 MPH speed limit, which seemed less than inspiring on paper, ended up not being a fun dampening limitation.   Yeah, there were some straight aways that begged for bigger digits, but with every straight away being bookended by curves that would make the most experienced rider grin and the less experienced rider looking for the wet wipes, the 45 MPH limit was quickly forgiven.   In fact, some of the curves are so sharp, that the road signs depict a motorcyclist flying off their bike.  Our destination was the Peaks Of Otter Lodge…which was right on the parkway at just over the 100 mile mark.   Along the way there were lots of great views, points of interest, and plenty of places to get that perfect photo.   There were many times where the road runs right along the spine of the mountain, with nothing but blue sky on both sides of the road.   The Blue Ridge Parkway did not disappoint.   It was a riding experience that was well worth the trip.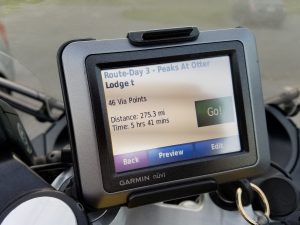 Day three had us leaving Peaks Of Otter Lodge and heading south on the parkway for a bit until we dropped down to the low lands and connecting with Route 220.   It looked fun on the map, but we had no idea how great this route would be.   We were on Route 220 from a little north of Roanoke, VA through the George Washington and Jefferson National Forest, through West Virginia, all the way to Cumberland Maryland.   For over 200 miles of leaning left and leaning right, stopping in some great small towns for breaks from time to time, riding through woods and rolling farmland, and even a stretch trying to keep up with a spirited rider on a BMW S 1000 XR, this was a completely unexpected highlight of the trip.   We covered about 300 miles and got as far as Altoona, PA before calling it a day.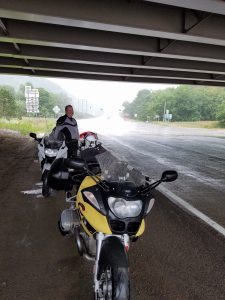 Day four had us heading north for the final 230 mile leg of the trip.   Rain was in the forecast, so we attempted to plan our start time to give us the best chances of staying dry.   We failed miserably.  We started out with a run over to the Allegheny National Forest with a quick stop for lunch in Bradford, PA.   As we crossed the state line into New York, the skies opened up.  After a brief escape under an overpass during the heaviest rains, we saddled back up and made the soggy trip through the hills of the southern tier, making our way back to my house by dinner time.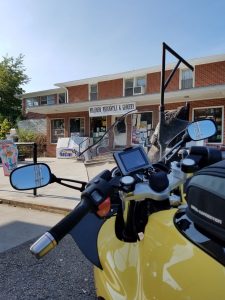 All in all, despite a couple hours of rainy riding, this was one great trip.   The Blue Ridge Parkway lived up to our expectations and some outstanding roads on the way there and back made the trip even better.   How did the bikes do you might ask…perfectly.   Both the F800GT and the older R1100S provided plenty of grins and enough comfort to keep us going.   
If you're a motorcyclist or have a fun handling car parked in your garage and are looking for a place to use up a bit more of your steering, suspension, and tire tread… the Blue Ridge Parkway should be on your list of roads to drive before your driving days are over.