When someone thinks about the hot spots for Jazz, cities like New Orleans, Chicago, and New York probably come to mind.   In fact if you were to mention Rochester, New York, many would not even put the former Kodak town on the top 50 list. Little do they know that this upstate New York city hosts one of the top ten jazz fests in the world.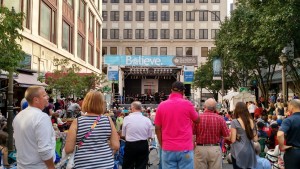 The Xerox Rochester International Jazz fest is a nine day event held in late June, that offers more than 300 shows, nearly 100 of them free, with 1500 artists coming from 18 countries.   Located near the Eastman School of music, the festival takes over the streets, with thousands of spectators, excitement, and music…wonderful music everywhere. With five outdoor stages, various vendors, and food trucks serving up mouth-watering entrees at every corner, it's impossible to not have a great time.
The musical acts range from high school and community Jazz ensembles, to the likes of Trombone Shorty, Gap Mangione, and Herb Alpert, and headliners including Diana Krall, Jennifer Hudson, Tedeschi Trucks Band, and countless more.   There's a little something for everyone.   Music fans can fill their week with free music, buying a Club Pass gets them into all but the headliner acts, and if you're lucky enough, tickets can be purchased for all the big acts…but act fast as they sell out very quickly.
This year I was able to catch a couple of the headliners held in the Kodak Hall at Eastman Theatre. This historic venue offers an intimate concert experience surrounded by breathtaking architecture. The first concert I saw was Beth Hart and Gary Clark Jr.   I was very familiar with Gary Clark Jr, but Beth Hart was new to me…and I had no idea what I had been missing.   With a bluesy grit to her voice, delivering powerful and soulful vocals, and tearing up the keys on the piano, Hart brought her raw emotion to the sold out crowd.   Gary Clark Jr. performed an 'album perfect' concert, delivering a mix of blues with a bit of funk, all filled with the beautiful tone of Clark's guitar playing.
A couple nights later I was fortunate enough to experience the Tedeschi Trucks Band's "Wheel of Soul" tour, featuring Doyle Bramhall II, Sharon Jones and the Dap-Kings, and the Tedeschi Trucks Band.   With each act delivering high energy sets of their own, this four and a half hour concert ended in an encore featuring members from all groups on stage at the same time.   A night filled with guitar licks by Bramhall, the high energy R&B of Sharon Jones, and the soulful rasp of Susan Tedeschi accompanied by the smooth sweet slide guitar playing of Derek Trucks.
These two events alone would have made this an outstanding festival, but there were seven more nights of equally outstanding performances… including a surprise appearance by James Taylor with the Steve Gadd band.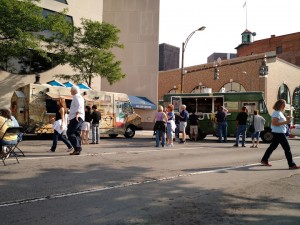 Nobody will ever confuse Rochester, NY with the French Quarter of New Orleans, but in this one week of June, if close your eyes for just a second, the sound of music in the streets, the aroma of Andouille sausage coming from the food trucks, and the warm summer breeze might just make you think you are a little closer to the Gulf of Mexico than Lake Ontario.   If you're a fan of Jazz, soul, blues, or R&B… the Xerox Rochester International Jazz fest should be on your musical bucket list.