If you've been following our hiking series, you can probably tell that we like hiking and we love hiking the Catskills.   We've focused on the Thirty Five Hundred Footers, but there are dozens of other peaks in the Catskills that are well worth exploring.   For those that want to gain full membership in the Catskill 3500 Club, not only will you have to climb all thirty five peaks, but you'll have to climb four of them again in the winter months.   While many of the Catskill hikes can be done without too much special preparation, once you start to string peaks together, or head off trail you're going to want to put a little more attention into planning your hike and gearing up properly.
So, what kind of gear do you need for a successful hike?   
Starting with where the rubber meets the road…or the trail… you are going to want a good pair of hiking boots.  Boots come in lots of configurations ranging from lightweight, low height trails shoes, to heavy duty backpacking boots that will provide the support needed to log mile after mile with a heavy pack on your back.   Look for boots that provide good ankle support, are not too tight, or too loose, and provide protection against the elements with features such as Goretex waterproof linings.   Make sure you pair up your hiking boots with a good pair of hiking socks.  I'm a big fan of Salomon boots and Smart-Wool socks, but there are lots of options.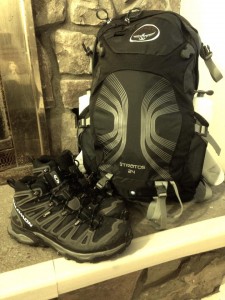 You are going to want to carry some food and some gear, so you will definitely need a pack.   For shorter day hikes in warmer weather, a very small backpack or even a lumbar pack will work just fine.  Make sure it can carry a couple bottles of water or a hydration bladder, has room for an extra clothing layer, and for some food.   Again, the longer the hike, the more you'll need to carry.  If your hiking season starts in the early spring or stretches into the fall, clothing layers are definitely important.   You never know how long you'll be in the woods, and you want to be prepared for temperature changes throughout the day and the elevation.   A list of items that your pack should contain might look like this:   compass, knife or multi-tool, flashlight or headlamp, bug repellant, whistle, moleskin, small first-aid kit, a way to start a fire, and waterproof trail maps.   You may want to consider items like water purification tablets or life-straw, duct tape, some paracord, an emergency bivvy, and if you're heading off trail, I consider a GPS to be a must have item.   For multi-day backpacking, you'll need even more gear…but my hiking experience has been limited to day hikes…so I'll point you to your local outfitters for guidance on mandatory backpacking gear.  My packs include an Osprey 24L day pack and a Mountainsmith Lumbar pack.
Just like good boots, proper clothing is a must.   Avoid cotton and stick with higher tech breathable fabrics.  Cotton can get wet and then makes you cold.   The more modern fabrics breathe well, wick away moisture, and will keep you more comfortable throughout your hike.  Dress in layers..and add and remove as the conditions warrant.  Zip off hiking pants provide a lot of flexibility for handling temperature and trail condition changes.   A hiking oriented rain jacket is a good idea, and if you're hiking outside of the summer season, remember gloves and a hat.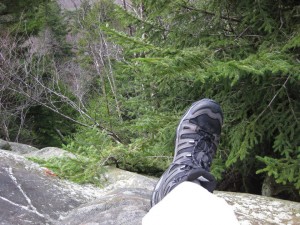 And finally, don't forget good nutrition.  Not eating properly is a sure recipe for a painful hike.   I'm a big fan of the PB&J sandwich…but my pack always has a Power Bar, some trail mix, often a Clif bar, bananas, and plenty of water.
Other optional items may include trekking poles, crampons if you're covering icy terrain, and even snow shoes if conditions warrant them.
Bottom line, it pays to be prepared.  There are lots of single peak hikes that might only be a few miles round trip, and they probably don't warrant a lot of gear.  But as your hikes get tougher and longer, take the time to bring the right gear.  Much of it will stay in your bag hike after hike, but you don't want to find yourself wishing you had brought something you need.
Hiking in general, and hiking the Catskills specifically, can be a lot of fun.  Take your time to research your hikes.  Check out some of the resources we've shared, and after you've caught up on your reading at RelativelyRandom.com, get off the couch, gear up, get outside, and take a hike!
Resources that may come in handy:
http://www.catskill-3500-club.org/
http://www.catskillmountaineer.com/
http://www.salomon.com/us/sports/hiking/_a51818
Check our our full series on hiking in the Catskills…
Thirty Five Reasons To Hike The Catskills
The Escarpment Trail – 23 miles of Catskill Mountain Adventure
The Devil's Path – The toughest hike in the Catskills
No Trails, No Problem… Tackling the Catskill Mountain Bushwhacks